Uncommon Criminals
by Ally Carter
Disney Hyperion Books: New York, 2011.
ISBN: 978-142314795-4
Kat Bishop is back again in the second book in Ally Carter's Heist Society series. This time though, our favorite con-artist with a heart has herself been conned after being led to believe she was returning the allegedly stolen Cleopatra Emerald to its rightful owner. Embarrassed that she's fallen victim to an old school con artist who seems to think Kat is just like her, Kat reluctantly accepts the help of her crew in retrieving the emerald and reuniting it with it's rightful owner, making things slightly awkward with her possible (if she would only admit it to herself) crush, Hale. To get the stone back, the crew must work together in a high stakes gamble in the casino's of Monaco, all while trying to avoid the attention of Uncle Eddie, who has specifically instructed them to have nothing to do with the Cleopatra. This newest edition in the series is an exciting, quickly paced, occasionally romantic read; it may even be stronger than the freshman effort! It is recommended for libraries serving (probably female) patrons aged 11 to 15, and cool adults who like to pretend like they can be an art thief if their day job doesn't work out. Ahem...
You guys, this book is really fun. I encourage you to read it over a vacation or lazy Saturday morning. It's quick. It's exciting. It's white-glove sexy (chaste kissing, not the white doctors office gloves you're thinking of you perv). It's about art theft! It's like a girls' version of
Ocean's Eleven
, before they blew it by making too many (whatever, it's the truth). Just do it. You're welcome.
Perhaps you don't remember
the promise
I made to you several months ago when the first two chapters of this book were up online. It is likely, because I barely remembered. You know, the one where I promised to tell you which paintings I'd steal if ever my soul became a blackened coal lump and I turned to a life of art theivery of specific paintings for my own, and only my viewing pleasure? But rejoice, because remember, I did. And here they are. There are probably more that I've forgotten, like some Winslow Homer watercolors (how did I miss his watercolors until the age of what I am now?), Dutch Renaissance Masters, or the crown jewels (which I'll get anyways, when I marry Harry, obvi).
Paintings I'd Steal
(if ever my soul became blackened coal lump and I turned to a life of art theivery of specific paintings for my own, and only my viewing pleasure)
1. Ground Swell, Edward Hopper, 1939.
Currently residing at the Concordian Gallery of Art, Washington DC.
Sunburn is a serious consideration for the blindingly white guy by the sail.
2. Self Portrait, 1500, Albrecht Durer, 1500.
Currently residing in Alte Pinakothek, Munich.
Why so serious?
3. Primavera, Sandro Botticelli, 1482.
Currently residing in the Uffizi Gallery, Florence.
This is a smutty painting.
4. Bouquet of Sunflowers, Claude Monet.*
Currently residing in the Metropolitan Museum of Art, New York. This is also a possible location for where I may one day pull a Basil E. Frankenweiler.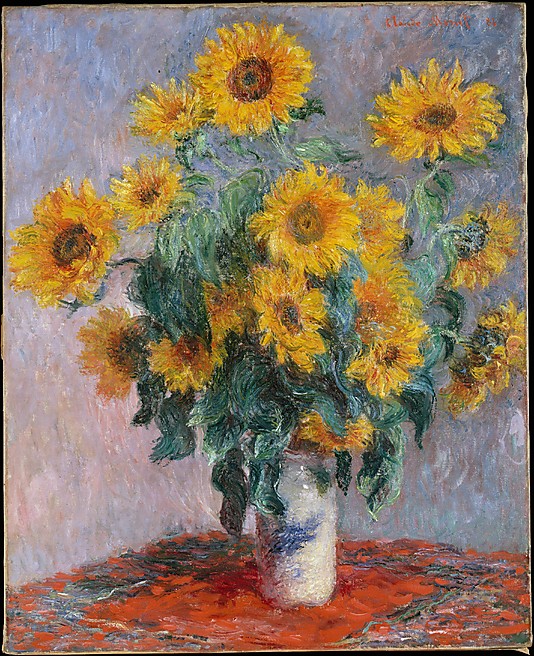 *Really though, I'll settle for any old Monet you've got lying around.
5. Women of Paris: The Circus Lover, James Jaques Joseph Tissot, 1885.
Currently residing at the Museum of Fine Arts, Boston.
I dare you not to start humming the Moulin Rouge soundtrack. Cooooome what mayyyyyy...
Retrospectively, it's going to be so suspect if any of these go missing now. It wasn't me. I heard Thomas Crowne was in town though...