Girl at Sea
by Maureen Johnson
EPUB copy from Boston Public Library
Harper Collins: New York, 2009
ISBN: 9780061973932
Moments after scoring her dream summer job working with her crush and in her favorite art store, Clio is hugely disappointed to learn that she will be spending the summer with her father on a yacht off of the Italian coast.
Though the hesitancy seems ungracious, their relationship has been strained since her parents divorce, following both her father encouraging her get a rather large arm tattoo at twelve on an unorthodox international trip, and a business partner embezzling their money from the invention of a famous board game.
Arriving against her will, insult is added to injury when she finds it will not be just them. Instead, there is a motley crew consisting of her dad's best friend, his new surprise professor girlfriend, her gorgeous Swiss-English teenage daughter, Elsa, and her infuriating yet cute college research assistant, Aidan; to cap it off, Clio is summarily informed that she is the group chef.
Still smarting, she is surprised to find herself hitting it off with Elsa, who has expressed a more than friendly interest in Aidan, and doubly surprised to find herself confused when Elsa makes her move.
Clio is also highly suspicious about the purpose of the yachting trip – in addition to the ban on telephones and the Internet, there is too much diving and scientific equipment onboard to be a simple pleasure cruise – but nobody will tell her anything. Clio decides to take matters into her own hands to discover the secret truth behind her Mediterranean summer captivity.
Maureen Johnson is always quirky fun to read, with guaranteed laughs, smart female characters, witty banter, a little romance, and exciting plot twists.
Girl
at Sea is no exception.
A fun, light read for summer (or any time), it will be enjoyed by girls grades 7-10.
As per what seems to be my usual Maureen Johnson trend, I am reading/reviewing one of her books while enjoying an adult beverage, in the summer, and in a Southern airport.
Twice makes a trend right?
Like all MJ books (in our humble opinion – using the royal we to demonstrate how humble, obvi), this was total fun from start to finish.
My only regret?
It arrived off of the hold list a week AFTER my beach vacation ended.
It would have been super meta to read it while on the beach, getting stung by a jellyfish too*, no?
This has a ton of my favorite curiosities in it: beaches, old timey things, adventure, smart and independent girls, archaeology, vacations, Italian wine, walkie talkies, etc.
It may well be the reason I look into scuba diving lessons in the near future, though I'm right there with Clio on the creepy baby doll head floating out at me from the murky depths of the sea, and totally because of this picture that still haunts me, and apparently Maureen Johnson, from my mother's Titanic book by Robert Ballard.
Since it is shark week and naturally we are all terrified to get in the water, I've chosen to include it here: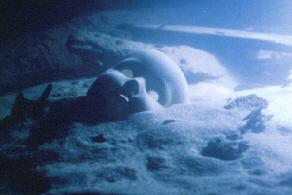 Sleep well tonight, team.