You be aware that President Jimmy Carter, he of the peanut farming and Iran hostage crisis, and a heck of a lot of good deeds done around the world (there's that small honor of a Nobel Peace prize or something), announced just a few days ago that he has cancer.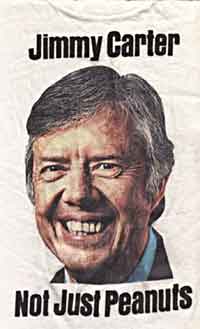 Source: ushistory.org
I'm saddened to hear that and hope he has good people around him and that recovery is in the cards so he can keep doing said good deed around the world. Who can't get behind a guy who belongs to a gang of geriatrics called the Elders? Those punks push world peace, you guys!
I made this green bean dish a few weeks ago for my Presidential themed potluck, where I also made Michelle Obama's Minty Spring Pea Salad. Green beans, it turns out, were noted in a few places as one of Carter's favorite foods. Factoring in the peanut farming was easy enough, and voila! Green beans ala Carter.
Ingredients
2 lbs fresh green beans, trimmed
Cook or steam beans for about 3-4 minutes until they are just done (brighter green) with some crunch still left, and immediately remove them from the hot water to a cold water bath or a cold water rinse. Let cool and dry.

Pulse nuts, garlic, and pepper in a food processor until just coarse.

Add in vinegars and pulse until just combined but still grainy.

Place beans in your serving vessel, drizzle with a little bit of olive oil.

Pour nut mixture over the top and toss to roughly combine and coat the green beans.

Squeeze the lemon wedges over the top. If you like spice, sprinkle a bit more red pepper over the top before serving!
Notes:
I based this recipe very, very loosely on the Smitten Kitchen's recipe for Green Beans with Almond Pesto; it was definitely an inspiration, but clearly I went in a different direction.

To that end, I made mine with one full cup of peanuts. I found this to be a bit excessive in the greens to nuts ratio, and have lowered the measure to ¾ cup in the recipe as shared here. However, I think you could even adjust to ½ cup and be fine!

I also flirted with adding soy or miso to the dressing, or lemon to it directly. I'm still flirting with this so let me know if you try it before I get there and recommend it!